Practicum Planning and Procedures
I. Ensuring Breadth and Depth of Training
Student should choose practica for breadth and depth across their graduate training. That is, assessment and intervention with diverse populations, in various settings, with different theoretical orientations and treatment modalities, including group and individual. (For your information, this table shows the range of clinical training experiences for the 11 student applying for residencies for 2018-20):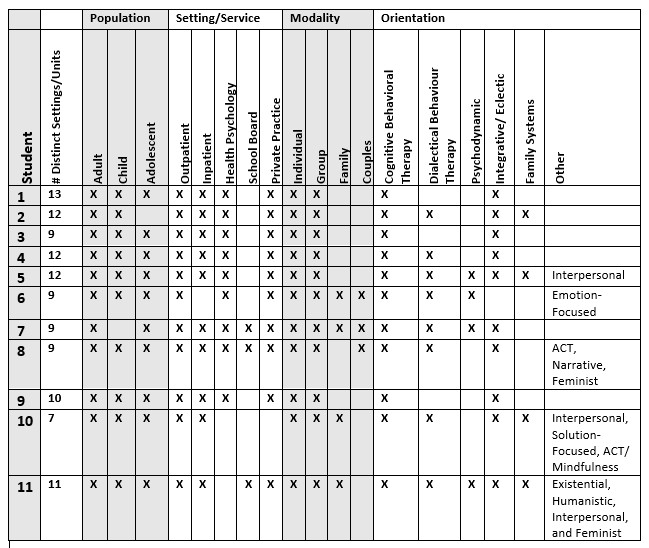 Towards this end, each student in MSCII and beyond will meet individually with the Clinical Practicum Coordinator at least once per year. This meeting usually occurs in May. At that time, they will review the student's clinical practica training to date and will generate a tentative practicum training plan set for the upcoming year (Sept. 1-Aug. 30). See Section VII (Practicum Planning) I for more information.
The Clinical Practicum Coordinator must approve each practicum placement before it begins.
II. Sequencing of Practicum Courses
Psychological Assessment Practicum (Full course; Placement begins in the Winter term): 9901
Full Clinical Practicum (1/2 (Y) courses; ~65+ direct clinical contact hours): 9805Y-9819Y
Half Clinical Practicum (1/4 (U) courses; ~32+ direct clinical contact hours): 9820U-9839U.
Full Applied Research Practicum (1/2 (Y) courses; ~ 180 hours): 9850Y-9854Y
Half Applied Research Practicum (1/4 (U) courses; ~ 90): 9855-9859U
Full Clinical Supervision Practicum (1/2 (Y) courses; 30+ hours of providing supervision): 9860Y-9869Y
Half Clinical Supervision Practicum (1/4 (U) courses: 8-30 hours of providing supervision): 9870U-9879U

Note:
Complete practica in numerical order. For example, enroll in 9805U before using 9806U for the next full clinical practicum, complete 9806U before using 9807U for the next full clinical practicum, etc.
Practica that involve only assessments will have roughly half that number of direct contact hours. Those with a blend of assessment and intervention will have numbers somewhere in-between.
III. Prerequisites for Practicum Courses:
Psychological Assessment Practicum (9901)
Psychology 9300A: Professional Foundations of Clinical Psychology
Psychology 9301B: Pre-Practicum in Clinical Psychology Skills (Can be taken concurrently)

Clinical Practica
Psychology 9900 (Psychological Assessment) and 9901 (Psychological Assessment Practicum)
Psychology 9902A and 9903B: Lifespan Psychopathology I and II

Applied Research Practica
Must be enrolled at the Ph.D. level of the Clinical Program.
Successful completion of one of the Evaluation and Research Methodology courses. These are specified in the Clinical Program Requirements Form
IV. Amount of Clinical Practicum Training
As per CPA accreditation criteria, before obtaining the Ph.D. degree, students must complete at least 600 (direct plus indirect) practicum hours pre-residency. At least 125 of these hours should be formally scheduled supervision.
To meet the program requirements, student also must complete a full-year (2000-hour), full-time CPA or APA accredited residency.
To be competitive for a residency, data from our recent residency applicants suggests that students should have more than the 600 hour (300 direct) CPA minimum by November 1st of the year preceding their anticipated residencies. Some residencies may require considerably more of applicants. Students should keep these variations in mind when planning practica sequences and selecting programs to which to apply.
Table 1:   Hours reported in AAPI applications (i.e., hours accrued up until November of the year preceding the onset of residency) by UWO clinical psychology students (N=32) who applied to residencies starting July/Sept. 2013 through July/Sept. 2020.
Year residency begins

#
Students

# Intervention Hours
Mean (SD)
Range

# Assessment Hours
Mean (SD)
Range

# Supervision Hours
Mean (SD)
Range

2013

6

436 (±118)
334-618

210 (±98)
84-367

285 (±93)
153-423

2014

10

529 (±191)
324-899 

210 (±61)
101-296

299 (±53)
228-381

2015

2

503 (±13)
490-517

259 (±61)
152-336

348 (±95)
282-472

2016

3

611 (±129)
488-745

216 (±11)
205-227

377 (±88)
250-419

2017

0

NA

NA

NA

2018

4

503 (±135)
342-636

237 (±115)
97-379

366 (±92)
245-468

2019

2

620 (±6)
616-624

246 (±11)
238-254

262 (±39)
234-289

2020

3

466 (±111)
493-693

224 (±35)
200-264

322 (±58)
257-367

2021

2

828 (±232)
664-992

224 (±6)
219-228

408 (±19)
394-421

Total

32

562

228

333 
Bear in mind that "more is better" definitely does not apply to clinical training hours. We advise students not to strive for a ''magical maximum'' (i.e., the number of hours to 'guarantee' a match). Rather, they should aim for a "magical minimum" (i.e., the most efficient number of quality hours) that complements other desirable aspects of an applicant's file (publications, presentations, near-completion of the doctoral dissertation).
This advice is consistent with the Canadian Psychological Association's Accreditation Standards (page 42), which states that:
"The Accreditation Panel acknowledges that in the competitive marketplace, students may complete far more than the required number of practicum hours prior to applying for internship. However, the Panel strongly encourages students to focus on quality (e.g., variety of issues and populations) over quantity (e.g., amassing a large number of hours) when completing their practica".
(Approved at the June 2007 Annual General meeting of the Canadian Council for Professional Psychology Programs (CCPPP)).
V. Structure and Content of Clinical Practicum Training
Psychological Assessment Practicum
The first term involves classroom instruction. Also, students practice test administration, integration and interpretation of findings. Field placements begin in the second term.
Each student does one (sometimes two) placements and does at least one assessment per placement.
Each assessment involve 4-10 hours of direct client contact. The Direct Clinical Contact to Supervision ratio usually does not exceed 3:1.

Clinical Practica Courses
These practica usually take place over an 8-month period (e.g., September-April). But some might take more time and others less time (e.g., practica over the summer) to complete.
Students typically are not required to be on site more than two days per week. For practica spread over shorter or longer periods of time, the weekly hours will be adjusted accordingly.
Full practica (1/2 courses) typically will involve a minimum of 65 direct clinical contact (e.g., intervention, assessment, diagnostic/intake interview) hours. To ensure breadth of training, as a general rule direct clinical contact hours should not exceed 130. In contrast, half-practica (1/4 courses) generally will entail at least 33 and not more than 65 direct clinical contact hours. For both full and half practica, there should be a minimum of one hour of regularly scheduled one-on-one supervision per week. Direct to Supervision ratio should not exceed 4:1; the average ratio (see Table 1) is less than 3:1.
VI. Practicum Class
During the Fall and Winter terms students are to keep Thursday afternoons (12:00-4:30) free. This time is for Clinical Brownbags (12:00-1:00) and the Clinical Practicum Class, which meets 2:30-4:30, roughly 8-10 times from September- April. Students taking practica and those accruing program-sanctioned hours during that time period are required to attend. The class focuses on professional development, with a rotating set of annual themes and required readings. There are two student presentations per class. They need not be case presentations. But students must give at least two case presentations in practicum class during their Ph.D training. At least one in Ph.D. 1 or 2 and at least one in Ph.D. 3 or 4.
Ideally, students will not schedule activities (practicum or otherwise) on Fridays 3-4 pm. This is when the department's colloquium series is held and students are strongly encouraged to attend.
VII. Practicum Planning: Timeline and Procedures
Early May: Clinical supervisors inform the program about their availability for the upcoming year (Sept. 1-Aug. 31). At that time, they also convey changes to their practice and/or supervisory capacities. The Clinical Adjunct page is updated accordingly. If and when their training roster becomes full , the clinical supervisor informs the program. Again, the Clinical Adjunct page is updated accordingly.
Early - Mid-May: Students check the updated Clinical Adjunct Advisor page. They and their research supervisors discuss how much time they can spend on practica in the upcoming year, given other demands (research, thesis, coursework, TAships). The student informs the Clinical Practicum coordinator (with a cc to the thesis supervisor) what was decided.
Late May - Mid-June: The Clinical practicum coordinator meets individually with all students going into PhD I and higher (more senior students first) about placements for the upcoming year (i.e., Sept. 1-Aug 31). As a general rule, placements will not begin before Sept. 1 nor end after Aug. 31.
Late May - mid-August: Students contact prospective supervisors (again, more senior students first), with a cc to the Clinical Practicum Coordinator. The more senior students contact prospective supervisors before their juniors because they have less time to complete the hours/training they need before applying to residency.
Students may arrange more than one practicum in a given year, as long as they are consecutive. A student may arrange a concurrent placement only after all PhD students have secured their placements. Once a placement has been confirmed, the student submits an Intent–to-Register form (Anthony: Include link?) to the Clinical Practicum Coordinator (See below for details about this form and other practicum paperwork).
For the Psychological Assessment practicum (9901) the course TA or Instructor(s) handle the matching of student with clinical supervisor in the Fall term.
On Registering (and re-registering) in Practicum Courses
Students are to initially register in a practicum course during the term (Fall, Winter, Summer) in which it starts (e.g., one would register in the Winter term for a practicum beginning in March) and keep re- registering until all end of practicum paperwork has been submitted to the Clinical Practicum Coordinator. Failure to do so will be considered unprofessional, and will result in an email to the students' clinical supervisor, research supervisor and the Director of the Clinical Program, who comments on students' professionalism as part of the residency application process.
Prior to their first practicum, all students must complete a WEPA (Workplace Educational Placement Agreement) form.
This typically is done in MSc I
Required Practicum Documentation Before beginning a practicum
Student completes the Intent to Register in a Practicum form and submits it as soon as the key details (start and end date, supervisor, setting) have been confirmed, and no later than one month before the planned start of the placement. If the student and their supervisor discuss an approximate start date but have yet to settle on the exact date, students submit an ITR form with the approximate date. If and when details (including but not limited to start dates) subsequently change (either before or after the practicum starts), the student is to submit a revised Intent-to-Register form (with the revised element bolded or otherwise highlighted) to the Clinical Practicum Coordinator.
Pre-Placement Screening Procedures
Students are responsible to ensure that they have met the pre-placement requirements for the settings in which they will be doing practica. This in information is accessible either through the Setting/Clinical Adjunct webpage
or will be communicated to you by your clinical supervisor.
Note that:
Almost all settings will require an up-to-date Police Check 
Many of the hospital-based settings will require a health screen and proof of immunization form and a Seasonal Flu vaccination form
LHSC-affiliated placements require that students undergo N95 (facemask) Fit Testing to protect themselves and patients in the event of an infectious disease outbreak.
At the beginning of a practicum
The student and supervisor meet and complete the Practicum Supervision Contract
at (or before) the onset of the placement. This process is important, as the contract is intended to provide signposts for a dialogue between the supervisor and student. A copy of the contract is to be submitted to the Clinical Practicum Coordinator within one month after the start.
The practicum supervisor and student each retain a copy of the signed contract and the student provides an additional copy to the Clinical Practicum Coordinator for the Clinical Program Files.
The contract should be reviewed with an 'expectation check' after 4-6 weeks, at which point any revisions are noted and the contract is signed off by both parties. Send the revised contract to the Clinical Practicum Coordinator.
Midway through the practicum
When the student has accrued roughly half of the projected clinical contact hours for the practicum (i.e., about 35 for full practica and 20 for 1⁄2 practica), the supervisor completes the "Mid-Term Evaluation" column of the "Supervisor Evaluation of Student".
The student retains a copy of this completed form and provides one copy of the form to the practicum coordinator.
Note: The mid-term evaluation does not apply to 9800 (Assessment Practicum)
At the end of the practicum
Having fulfilled the practicum criteria, the student should complete the following paperwork promptly (and no later than one month after the end of the placement*) and submit it as a single packet of material to the Clinical Program Administrative Assistant. The Practicum coordinator, who also serves as Course Instructor for the Practicum courses (except for the Psychological Assessment Course) will not submit the student's grade (Pass/Fail) for a given practicum course until all the paperwork is handed in. Students should retain a copy of this material for their files.
*N.B. Placements end when students have had their final client contact or submitted the final version of their final reports to their supervisor, and not when the student and supervisor discuss and co-sign the Supervisor Evaluation of Student form.
Five  items to be submitted as a Packet at the end of a Practicum
1. Practicum Log Sheets
Students may create their own log sheets, informed by CCPPP's Guidelines for the Documentation of Professional Training hours or Time2Track. (Even those using Time2Track should refer to the CCPPP's documentation guidelines.)  
The log sheets are to be signed and dated by students. They should include a clear indication of the following practicum-related activities:
All face-to-face contact (intervention, assessment, feedback, intake/diagnostic interview) with clients and/or their guardians, ideally noting whether the supervisor is present/observing.
Time spent in individual or group supervision.
Indirect support activities: - Time spent outside of your therapy hours while still focused on the client (background reading, chart review, preparing and presenting case presentation).
Note: These categories are mutually exclusive. That is, a practicum hour may not be counted more than once across any of these domains.
2. Practicum Summary Sheet (fillable pdf)
To be dated and co-signed by the student and clinical supervisor
It requires a tally of the total # of hours engaged in the following activities:
DI: Direct Intervention-without supervisor present
DA:Direct Assessment-without supervisor present
DI-s:Direct Intervention- with supervisor present
DA-s: Direct Assessment-with supervisor present
S: Supervision – without client present
I: Indirect – non-classroom
I-c: Indirect- Intervention practicum class–case related
For more extensive information, refer to CCPPP's Guidelines for the Documentation of Professional Training hours
 
3. Student Evaluation of Supervisor and Setting
Print out at least one hard copy (you'll be prompted to do so at the end the survey) to include with the rest of the end-of-practicum paperwork.
4. Supervisor's Evaluation of Student (fillable pdf)

The final column and associated comments section are to completed by the clinical supervisor. The form is to be dated and co-signed by student and clinical supervisor.
5. Completed Honorarium Request Form (fillable pdf)

The Social Insurance and amount of Honorarium should be left blank.
The honorarium schedule is $350 for a full clinical practicum(1/2 course; assuming 20+ hours of supervision), $175 for a half practicum (1/4 course; assuming less than 20 hours of supervision), and $90 for setting supervisor(s ) for the initial assessment practicum. The Social Insurance field can be left blank.
Primary Clinical Supervisors for a practicum:
Must be Ph.D. level psychologists registered for autonomous practice in Ontario who have primary clinical responsibility for the supervised case(s).
Typically and preferably supervisors are UWO Department of Psychology Adjunct Clinical Faculty members, and must be in a setting that has formal arrangements with the UWO Clinical Psychology (including a Memorandum of Agreement with UWO).
Our Adjunct appointment requirements are available at:
https://www.psychology.uwo.ca/research/clinical/adjfacinfosheet.html
X. Amount and type of supervision
There should be, at minimum, one hour of scheduled individual supervision per week (assuming a standard 8 month practicum) at a regular and consistent time. The ratio client contact to supervision hours should not exceed 4:1
At least some part of the supervision will involve the supervisor's observation (direct, or via audio and/or videotapes) of the trainee's clinical work.
To guard the safety of students and clients:
Under most circumstances, clinical supervisors will always be on-site when their students are providing services. If not, supervisors should be readily accessible (via telecommunication) and, ideally, designate a registered on-site psychologist as a back-up.
Under no circumstances are students to be alone with clients in settings. That is, as a safety precaution, at least one staff member should be immediately physically accessible whenever students are seeing clients.
XI. Supervision by individuals other than UWO Department of Psychology Adjunct Clinical
Faculty Members
If the supervisor otherwise fulfills the criterion for a primary clinical supervisor (as specified in section IX) the student should arrange co-supervision by a UWO Psychology Department Clinical Adjunct Faculty member in the setting.
If the supervisor is an advanced level clinical psychology student at UWO, intern/resident, or non- registered psychologist, a UWO Psychology Department Clinical Adjunct Faculty member with primary clinical responsibility for the case serves as the primary clinical supervisor, in essence, supervising the supervision.
Over the course of students' tenure with the program, at least 75% of their face-to-face supervision time is to be provided by a Clinical Adjunct Faculty member.