Graduate Program Events
The recently released Graduate Student Experience Survey Report revealed that psychology graduate students felt their knowledge of reporting discrimination and/or harassment processes to be inadequate. In an effort to address this identified concern, the Graduate Affairs Committee has invited Larissa Bartlett, acting director of Western's Human Rights Office, to provide a workshop on your Western's Non-Discrimination & Harassment Policy. Please save the date and join us via Zoom for this important presentation!

Rights and Responsibilities: Non-Discrimination and Harassment
Date: Friday, December 3rd
Time: 9:30am – 10:45am
Method of delivery: Online via Zoom
Zoom information: Meeting ID (974 9424 0221) Direct link: https://westernuniversity.zoom.us/j/97494240221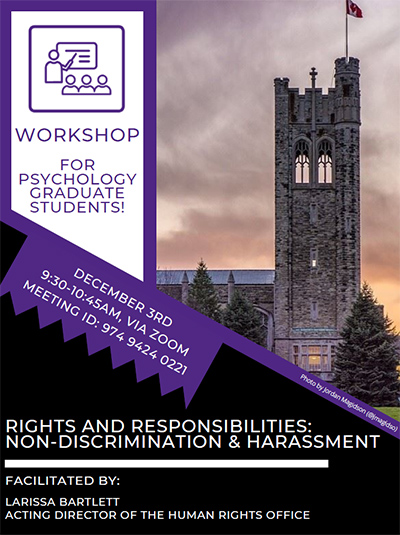 Date: Tuesday, March 29th from 4:00-5:00pm

The interactive event will feature a panel of speakers including:


Sarah Moroz – Associate Director of Assessment, University of Waterloo School of Pharmacy

Sarah received her PhD in social psychology from Western, and has translated her research and data science skills into work that she calls "academic-adjacent." Her role at UW is focused on program evaluation, student and instructor assessment, and educational research. She also serves on multiple working groups with professional pharmacy organizations and has worked on curricular redesign and strategic planning initiatives at the university. In her free time, Sarah enjoys reading, playing with her nephews and singing in the local philharmonic choir.




Amy Reichelt – Director of Neuropharmacology, Cybin

Amy completed a PhD in Neuroscience, a BSc with Honours in Psychology, and an Advanced Diploma in Nutrition. She has worked as a neuroscientist in multiple prestigious academic institutions in Australia, the UK and Canada, including leading research projects as a Principal Investigator to uncover the impact of nutrition on brain function. Amy has been recognised as a leader in the field of neuroscience, health and medicine – authoring over 50 peer-reviewed scientific articles in eminent journals and has been awarded $3.4 million in government research grants. Her current role is Director of Neuropharmacology at Cybin, a pharmaceutical company driving the development of next generation psychedelic medications for mental health. In addition, she is a Certified Health & Nutrition Practitioner and Wellness Coach and founded her own nutritional consulting company.


John Wickett – Owner, Wickett Measurement Systems

John received his MA in 1992 and PhD in 1997, both from Western in the Personality stream, with a focus on intelligence and emphasis on biological basis for individual differences. He is currently an independent psychometrician, working primarily with regulators in Canada to develop and score their licensing and certification examinations.







Jessica Wilson – Technical Director, iMotions

Jessica received her BSc in Neuroscience from Dalhousie University, and her PhD in Neuroscience from Northwestern University in 2015, where she studied spinal motoneuron behaviour in Parkinson's disease. In graduate school she discovered a love of teaching and science outreach, and leveraged her experience to join iMotions, a software company that helps bring human biosensor tools to companies and researchers in different industries. After five years, Jessica is now the Technical Director of iMotions North America, where she manages the product specialist, customer success and support teams; and continues to consult and train clients on how to bring neuroscience into multiple disciplines including marketing, education, usability, automotive, gaming and more.


The session will include a Q&A, during which you can direct questions to the panelists.

Zoom details:

https://westernuniversity.zoom.us/j/93112984925

Passcode: 945524


Please save the date: Tuesday, September 6th, 2022
Event details will be shared in Summer 2022.