Dr. Elizabeth Hampson
Email: ehampson@uwo.ca
Office: SSC 9218
Tel: 519-661-2111 ext. 84675
Curriculum Vitae
Bio

Publications

Research

People

Funding
Biographical Information
Elizabeth Hampson is a professor in the Department of Psychology at Western University and a core member of the Graduate Program in Neuroscience.  She holds a cross-appointment in the Department of Psychiatry at Schulich School of Medicine.  Her work on reproductive hormones in the nervous system and their implications for cognitive function,  memory, aging, and mood has received the
Curt P. Richter Prize
in neuroendocrinology and has been supported by a Chair in Women's Health from the Canadian Institutes of Health Research and Ontario Women's Health Council. She has served on the editorial boards of a number of peer-reviewed journals and is a past member of the advisory board of the Society for Behavioral Neuroendocrinology.  She was one of two Canadians  invited to serve on the Washington-based 
Isis Fund Network on "Sex, Gender, Drugs and the Brain"
(modeled after the MacArthur Foundation networks) sponsored by the Society for Women's Health Research, and is a founding member of the Organization for the Study of Sex Differences.  Her research focuses on the effects of estrogens and androgens in the central nervous system.
Selected Publications
Hampson, E., & Duff-Canning, S.J.  (2016).  Salivary cortisol and explicit memory in postmenopausal women using hormone replacement therapy.  Psychoneuroendocrinology, 64, 99-107.

Galea, L.A.M., Frick, K.M., Hampson, E., Sohrabji, F., &  Choleris, E.  (in press).  Why estrogens matter for behavior and brain health.  Neuroscience and Biobehavioral Reviews. 

Hampson, E., Phillips, S. D., Duff-Canning, S. J., Evans, K. L., Merrill, M., Pinsonneault, J. K., Sadée, W., Soares, C. N., & Steiner, M.  (2015).  Working memory in pregnant women:  Relation to estrogen and antepartum depression.  Hormones and Behavior, 74, 218-227.  

Hampson, E., &  Rovet, J. F.  (2015).  Spatial function in adolescents and young adults with congenital adrenal hyperplasia:  Clinical phenotype and implications for the androgen hypothesis.  Psychoneuroendocrinology, 54, 60-70.  

Hampson, E., & Morley, E. E.  (2013).  Estradiol concentrations and working memory performance in women of reproductive age.  Psychoneuroendocrinology, 38, 2897-2904.  

Pinsonneault, J. K., Sullivan, D., Sadee, W., Soares, C. N., Hampson, E., & Steiner, M.  (2013).  Association study of the estrogen receptor gene ESR1 with post-partum depression:   A pilot study.  Archives of Women's Mental Health, 16, 499-509.  

Hampson, E., Phillips, S.-D., Soares, C. N., & Steiner, M.  (2013).  Steroid concentrations in antepartum and postpartum saliva:  Normative values in women and correlations with serum.  Biology of Sex Differences, 4:7   doi:10.1186/2042-6410-4-7  

Sankar, J. S. & Hampson, E.  (2012).  Testosterone levels and androgen receptor gene polymorphism predict specific symptoms of depression in young men.  Gender Medicine, 9, 232-243  

Hampson, E., & Young, E. A.  (2008).  Methodological issues in the study of hormone-behavior relations in humans:  Understanding and monitoring the menstrual cycle.  In:  J. B. Becker, K. J. Berkley, N. Geary,
E. Hampson, J. P. Herman, & E. Young (Eds.), Sex Differences in the Brain: From Genes to Behavior (pp. 63-78).  New York:  Oxford University Press.

Becker, J. B., Arnold, A. P., Berkley, K. J., Blaustein, J. D., Eckel, L. A., Hampson, E., Herman, J. P., Marts, S., Sadee, W., Steiner, M., Taylor, J., & Young, E. (2005).  Strategies and methods for research on sex differences in brain and behavior.  Endocrinology, 146, 1650-1673.  

Breedlove, S. M. & Hampson, E. (2002).  Sexual differentiation of the brain and behavior.   In:  J. B. Becker, S. M. Breedlove, D. Crews, & M. M. McCarthy (Eds.), Behavioral endocrinology (2nd ed.)(pp. 75-114).  Cambridge, MA:  MIT Press.  

Duff, S. J. & Hampson, E. (2000).  A beneficial effect of estrogen on working memory in postmenopausal women taking hormone replacement therapy.  Hormones and Behavior, 38, 262-276.
Research
We study the importance of reproductive and adrenal hormones in the human nervous system, using a lifespan approach from prenatal development to old age.  A particular focus is to understand how hormones influence the expression of high-level cognitive functions, such as memory.  We try to identify functions that are modulated by hormones at different stages of the life cycle and to define the endocrine principles that govern how, when, and why these psychological effects come about.  Our research ranges from normal healthy individuals, to people with endocrine conditions, to people taking hormones exogenously (e.g. estrogen replacement therapy in postmenopausal women).  The techniques we use to unveil hormone-behavior relationships include behavioral observation (e.g. video analysis, speech sampling, eye tracking), measures of cognitive function or neuropsychological testing, combined with genotyping and immunoassays to measure hormone levels.  An on-site immunoassay lab allows us to directly quantify steroid hormones.  We were one of the first labs in North America to adopt the use of saliva for the accurate measurement of bioavailable hormone levels.     
Research Interests:
     • Actions of reproductive hormones in the prefrontal, temporal, and parietal cortex
     • Modulation of hippocampal and striatal function by androgens and estrogens
     • CNS effects of estrogens in women
     • Sex steroids and major depression
     • Cognition, mood, and pregnancy
     • Cognitive function in conditions of androgen excess or androgen deprivation
     • Functional associations of androgen receptor gene (AR) polymorphisms
     • Estrogens and the prefrontal cortex
     • Effects of aging, menopause, and hormone replacement therapy on memory and frontal lobe functions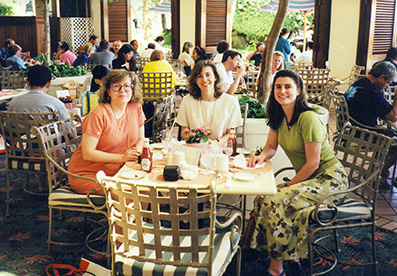 Dr. Hampson at INS with former graduate students Larissa
Mead and Sarah Duff-Canning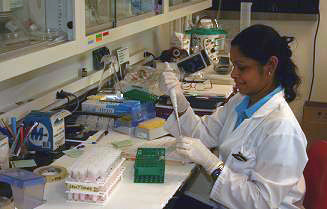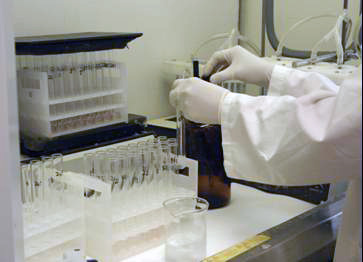 We operate an immunoassay lab that specializes in the measurement of steroid
hormones in saliva. Shown here is lab technician, B. Rajakumar.
People
Current Members of the Lab:
Elizabeth Hampson
Principal Investigator
Mark P. Holden
Postdoctoral Fellow
Sarah Ouellette
Graduate Student
Alexandra de la Rua
Graduate Student
Bavani Rajakumar
Lab Technician
Sawayra Owais
Honours Student
Recent Alumni of the Lab:
Kelly Evans
Postdoctoral Fellow at the University of Toronto
Janani Sankar
Postdoctoral Fellow at the DBT Centre of Vancouver, Vancouver Canada
Adrian Snihur
Consultant at Shift Health (formerly SHI Consulting), Toronto Canada
Mia Segal
Data Analyst at the Southwest Local Health Integration Network, London Ontario
Funding
I am grateful to the following agencies for past and present funding of my research program: